Our Visit to The Supreme Court 2017 and Judicial Review 2018
22 November 2018
On 24 October 2018 we attended The Supreme Court as an Intervener in a ground-breaking appeal by the Northern Ireland Human Rights Commission on challenging the law in respect of abortion in certain circumstances and the legal framework surrounding this in Northern Ireland. We represented our clients, who remain anonymous, as an Intervener in this legal challenge. The appeal was chaired by Lady Hale and 6 other Justices of the Supreme Court.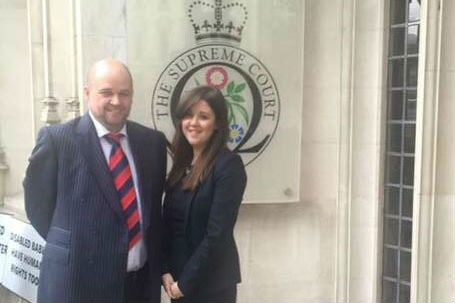 We flew over on the Monday night and stayed in London for three nights. The main facets of this case had been prepared but a lot of continuing preparation still lay ahead throughout the course of the hearing. Our case was heard on the second day of the three-day hearing. This was headed by our legal team of Senior Counsel, Junior Counsel and our Jemma Conlon, Solicitor.
Accordingly, the Justices handed down a Judgement in June 2018 with a majority against the NIHRC in having standing to bring this appeal. Whilst this may have been the end of the road for the NIHRC it was only the beginning for our clients' case. We have continued on with our clients' case and fought tirelessly to challenge the decision to prosecute our client and how in doing so it breaches their Human Rights.
The case is referred to commonly as JR76. It was most recently heard before the Lord Chief Justice and two other members of the Judiciary in November 2018.

video © Press Association
You can view our Jemma Conlon's Press Statement here INSERT LINK and read some articles on her interview INSERT LINK HERE.
Our Judicial Review was named by the Court as one of the biggest ever Judicial Reviews undertaken. We currently await a Judgement in this case.
If you have any queries regarding your Human Rights contact us today on 02890308777 or info@chamberslaw.uk
Written by Jemma Conlon, Solicitor